Our Vision at Zender Ford
It's All About Our People at Zender Ford
---
Renovations progress at Zender Ford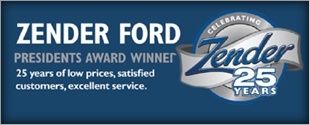 Zender Ford is a dealership that has been successful for over 30 years in the Spruce Grove and Edmonton Area. In order to improve on that success, in 2012 we decided to take the opportunity to renovate our entire building, revisiting everything we do and how we do it to continue that success. Check out the video below to see how the renovations went.
---
Zender Ford Grand Reopening
The Zender Ford vision is to become the best car dealership in the province, Ford or otherwise, and it's very exciting for us to have been in the position to rebuild from the bottom up towards that goal.
"I want all the Ford vehicles in the province to have a Zender sticker on them. I want to make sure that every Ford in this area is serviced by us as well. Most importantly, we want to make sure that every customer is completely satisfied and happy with us" says Chad Zender, President of Zender Ford.
Zender Ford is somewhat old-school in that we're a family named business. With the Zender name on the building and the backs of their vehicles, we work hard to live up to a level of value and standard attached to our name.
"My goal is for Zender Ford to be even more successful 20 years from now so that it can be passed on to the next generation of family and employees" says Chad, "and continue to serve the area with the highest level of customer service."
---
Our New Facility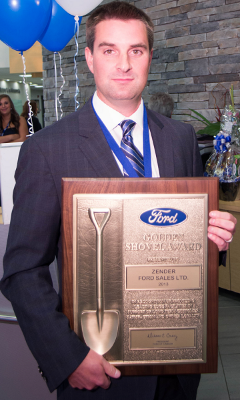 Ford is a family company and Zender Ford is the perfect example of what Henry Ford was looking for in entrepreneurs to represent his company. Spruce Grove now has one of the most high-tech and modern facilities on the market. Come down to Zender Ford and check out the new facility. It has been a physical and mental transformation process. Thank you for hanging in there with us during the renovations.
---
Car Giveaway
Our grand re-opening event was a huge success and we also held a contest and gave away a brand new car. Contestants had to sit in the driver's seat and turn the key to see if it would start. Bonnie was our lucky winner! She called her mom right away smiling and tearing up with joy.
Please view our video on the celebration speeches to truly get a feeling on how much of an accomplishment this is to the Zender Ford Family. We are proud to be ever improving our services to our loyal customers.
---
Zender Ford Fix AutoBody Shop
Zender Ford decided to move our collision facilities off site and invested in a property, partnering with Fix Auto, to offer the largest and most technologically advanced services in the area.
The new facility comes with all new equipment, including a 30 foot paint booth and two paint prep bays. With our new space, we can handle all of your vehicle's body shop needs, no matter what make or model, or how big or small your repair is.
"The first thing you should do after a collision or an accident is call your insurance. Then you can phone us, make an appointment, or drop in, and we'll take it from there." says Chad Zender, president of Zender Ford.